对波音747飞机飞行娱乐系统中视频控制机箱的验证设计
日期:2012-06-20
Thales Avionics Uses Thermal Design Services from FLOMERICS to Certify Design of Video Control Cabinet for 747 In-Flight Entertainment System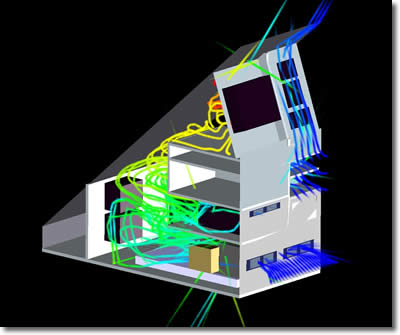 Results of the Flotherm simulation of the Thales VCC depicting streamlines throughout the chassis.
October 2002
When the engineers at Thales Avionics needed a thermal solution for their understair video control cabinet (VCC) within a restricted time budget, they called on the Thermal Design Services (TDS) group at Flomerics for quick answers. Thales had used Flomerics' Flotherm thermal analysis software in the past and knew that they could expect fast results and accurate answers.

An earlier version of the VCC design had been used on several new aircraft for an airline customer of Thales. After seeing how well the systems had performed on the new aircraft, the airline decided to retrofit the Thales system onto four of their existing 747 aircraft. The installation had to work within the boundaries of current cabin conditions and accommodate older interfacing equipment on the existing aircraft.

The system dissipates approximately 240W in total and is cooled with forced air provided by an external source. Air is drawn into the VCC through five inlet vents in the front panel of the unit and is exhausted through a single outlet plenum in the bottom face. The system must meet the stringent ventilation requirements set forth by the aircraft manufacturer.

Using FLO/MCAD, the design consultants at Flomerics were able to quickly build an analytical prototype of the system. The electronic geometry, provided by Thales in the form of IGES files, was easily imported into Flotherm. The analytical model was used to investigate the overall thermal performance of the system by predicting the overall temperature rise through the chassis, the general airflow patterns, and the partitioning of flow between various intake vents. The analysis showed that the VCC design was able to meet the specified ventilation requirements.

Through the analysis by Thermal Design Services, Thales was able to verify that their design was optimised and would meet all design objectives. In addition, Flomerics was also able to deliver the requisite compliance with Federal Aviation Administration (FAA) regulations from a designated engineering representative (DER) pursuant to Federal Aviation Regulation (FAR) 25.1301, 25.1309.

Commenting on the project, Sam Suh, a Sr. Mechanical Engineer at Thales said, "I was very pleased with the Thermal Design Services analysis not just because of the final results, but also because of their ability to deliver the results within a very short time frame. The TDS analysis confirmed the thermal integrity of the VCC and gave us the confidence to release the design for full production."
For further information, please contact:

Mike Reynell
Director of Marketing
Flomerics Group PLC
81 Bridge Road
Hampton Court
Surrey, KT8 9HH
UK

Tel: +44 (0)20 8487 3000
Fax: +44 (0)20 8487 3001