ASCOM公司应用FLOTHERM软件进行设计,使曲线形散热片进一步优化和使电源供电产品拥有更小的尺寸
日期:2012-06-19
Ascom Use FLOTHERM to Perfect Novel Heat Sink Design & Make Telecom Power Supply Products Smaller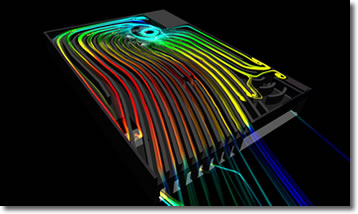 November 2001
Ascom Energy Systems has minimised the size of its new FR 48V 600W high-frequency switched-mode telecom power supply range and optimised the cooling within each unit using an innovative space-saving circular aluminium heat sink. The novel heat sink design was developed using Flotherm - the industry-leading thermal analysis software from Flomerics. Designed and simulated prior to the prototyping stage, the new heat sink guides air from a closely sited fan through curved channels rather than over conventional fins or pins. Flotherm was used to analyse the airflow and match the shape of the fins with the swirl from the fan, increasing the overall efficiency of the cooling device.

The initial CAD model was designed with empirical data and intuition. The complex geometry of the enclosure and heat sink was then imported into Flotherm via Flo/MCAD, the automated simplification module available for Flotherm. Analysis showed that certain areas of the heat sink were not properly ventilated, leading to poor heat transfer in these particular areas. Designers were able to use the airflow data to optimise the curvature of the fins. A subsequent Flotherm analysis showed a smooth airflow between the fins, a better fan placement, and lower temperatures of the internal components, validating Ascom's initial confidence in its design.

Commenting on the project Anton Sommer, CTO, Ascom Energy Systems, said, "Flotherm enabled us to perfect the curvature of our space-saving heat sink without building many prototypes. The Flotherm software produced results that enabled us to put the piece into production sooner, at lower cost and with a greater degree of confidence in its final performance."
For further information, please contact:

Mike Reynell
Director of Marketing
Flomerics Group PLC
81 Bridge Road
Hampton Court
Surrey, KT8 9HH
UK

Tel: +44 (0)20 8487 3000
Fax: +44 (0)20 8487 3001